Now that touchscreen word-processors are the equal of their desktop counterparts, I increasingly find myself hooking up my Apple keyboard to my iPad and Android phone. But the more that happens, the more irritating the Bluetooth pairing system becomes — and that, in essence, is the problem that OS X app 1Keyboard (£2.99/$4.99) is there to fix. But does it?
Setup
Much like its main rival, Synergy, 1Keyboard's role is to turn your Mac into a Bluetooth agent; your keyboard is always paired with your desktop, but the characters you type are disseminated to the device of your choosing.
So, the first step with 1Keyboard is to register your phones and tablets with the app. For devices already paired with your Mac, this is simply a case of selecting New Device from 1Keyboard's menu, and (optionally) recording a keyboard shortcut for quick typing access to the device in question. Notably, this process was as smooth with my Android-powered Nexus 4 as it was with my iOS7-powered iPad. In total, then, pretty much hassle-free.
Normal Use
The frictionless usability continues as you integrate 1Keyboard into your daily workflow. As the keyboard shortcuts start to imprint themselves onto your grey matter, flicking between screens becomes near-instant, and 1Keyboard does a good job of keeping up, causing very little lag.
In fact, my only gripe is with 1Keyboard's copy/paste facility. It, too, can be allotted a shortcut, and most of the time it works smoothly. However, at times, I found that characters were muddled in transit, making for extra editing work.
In terms of its basic function — that of typing — though, I think 1Keyboard performs perfectly well.
Interface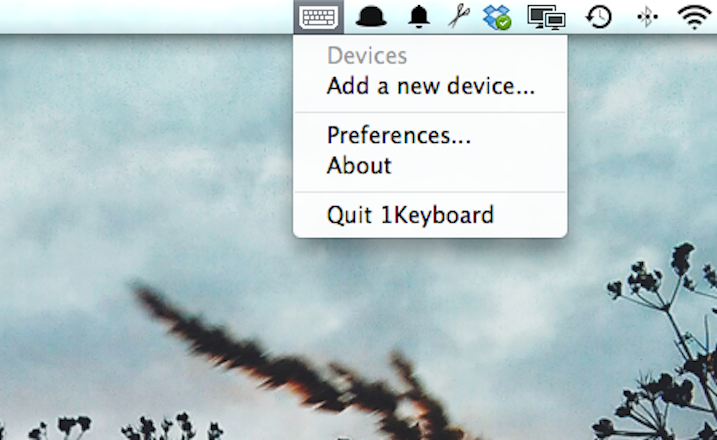 In a utility app such as this, visual excitement shouldn't be the focus, but that doesn't mean the interface shouldn't aid the user. Eyal Wiener, the one-man development team behind 1Keyboard, clearly understands this, and he has created a product that has an elegant, understated on-screen presence. Most of the time, 1Keyboard stays out of the way, only appearing in the top menu and/or the dock, with all the clickable controls tidied away into a drop-down menu.
The best detail in this app's design, however, is the use of prompts — these Growl-like notifications appear whenever you switch from one device to another, meaning that you should always know where your commands are headed.
Preferences
Also worth noting is the modest, but pleasingly helpful array of preferences provided by 1Keyboard. Here, devices and their shortcuts can be managed, and you can even choose which icon should represent each device — a nice touch.
Verdict
For those of us who regularly have to type on more than one device, 1Keyboard comes as sweet relief — and I say that in spite of the somewhat irritating copy/paste issue. Quite apart from the ease with which it can be set up, the way in which it blends into the background, almost as if Apple had included it in the OS (*nudge, wink*), makes it a great utility.
BUY FROM THE APP STORE