My 2nd Brain is an Apple-centric range of bags from Think Tank Photo, a company that otherwise specialises in photography equipment.  Available in Black, Harbor Blue and Mist Green, the range consists of bags for the iPad as well as 11″, 13″ and 15″ variations for the MacBook Pro and Air.
At a time when we're constantly using and switching between our smartphones, tablets and laptops in a single day, My 2nd Brain (selling at £75 or $95) is designed to help you to keep your iDevices organised on the go with more compartments and zippers than you know what to do with.
From the durable water-resistant fabric similar to what you'll find on most camera bags, to the removable shoulder strap and its metallic hooks – the My 2nd Brain feels well built and of high quality.
At a glance, you'd be forgiven for doubting how much the My 2nd Brain bag can handle. It's only once you open up the various zips and take a peek inside that you can appreciate how much Think Thank have managed cram in to this super slim bag, measuring at a mere 26 (W) x 35.5 (H) x 6cm (D).
Starting at the front, there's a L-shaped zipper with a dedicated pocket for an iPad (or any other tablet). It's made of a soft-touch fabric which is nice to avoid scratching your display, especially if you don't use a protective case. Inside the same compartment, you have a few slots for pens, business cards and even a small notebook or papers.
Immediately what concerns me though is the lack of protection for my iPad. Being right at the front, I feel like Think Tank could have included some extra padding – even if that would have compromised the slim design of the bag.
Above that, My 2nd Brain has a zip that unravels a small compartment at the top of the bag that's lined with the same soft-touch fabric used for the iPad pocket. It's ideal for small devices like iPhones and iPods and because of the interior lining, you won't have to worry about scratching here either. You also have a small mesh pouch that's perfect for a USB cable or earphones.
It's really conveniently placed at the top of the bag, and because it's a shallow pocket it makes it easy for you to unzip and grab your device quickly.
Open the main compartment in the middle of the bag and it's filled with mesh pouches on one side and zipped ones on the other, both of which can be used for power adapters, accessories, USB drives and whatever else you'll need on the move. Rather than simply throwing cables and accessories in to a single pocket like with other bags, My 2nd Brain does a fantastic job of keeping everything neat and tidy.
Also, unlike the other parts of the bag that have tight openings, this compartment spreads out to offer a vast amount of space.
At the back, there's a dedicated zipper for your MacBook with nothing except a printed message from Think Tank's saying "Where Would I Be Without You?". The interior is made of Nylon and although it does the job, I would have preferred the soft-touch fabric instead.
Because of the snug fit, the zipper seemed to slightly brush against the aluminium body of my MacBook Pro which wasn't ideal. If you're using a case you'll be fine, but if you use your MacBook without one you'll need to be careful. Also, similar to the issue at the front, I had concerns about the protection of my MacBook because there's very little padding on the back.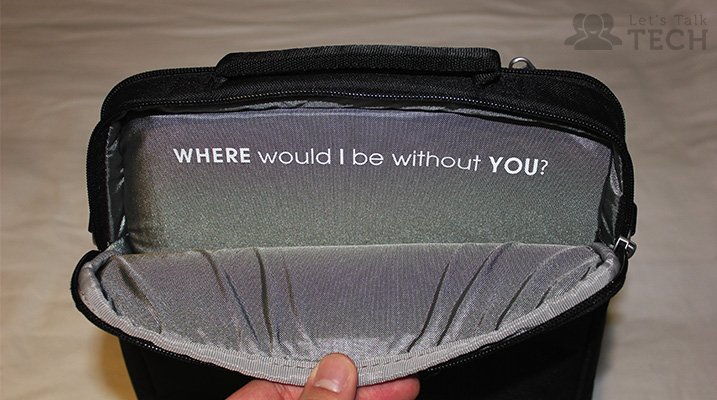 Lastly, there's a compartment at the back of the bag that gives you quick access to any paperwork or documents you may need.
The Bottom Line
My main concern with My 2nd Brain is the lack of real protection for the devices inside. The slim & compact form comes at the cost of protective padding which ultimately leaves your stuff prone to damage if you're not careful.
What you'll need to bear in mind, is that with My 2nd Brain you're trading off a protective bag for better organisation for your stuff in a well built and very compact design. I can personally say that it's a trade off that I'd be happy to make – but I'm not sure if others would.
This isn't exactly going to be an impulse buy at £75, but it's a price tag reflective of Think Tank's long lasting reputation for making high quality products. Plus, if you do carry (or want to carry) all of your devices with you, it'll be hard to find something as well organised, convenient and well made as this.
ORDER FROM AMAZON