On this week, the 25 year anniversary of Apple's first notebook, Apple has announced a redesign MacBook Pro.
Available in Silver and Space Grey and in 13 or 15 inch sizes, with the former sizing up 17% thinner at 14.9mm compared to the 18mm of the older model. The 15 inch model used to size up at 18mm vs the newer 15.5mm thin — a 20% volume reduction weighing 4 pounds.
The new trackpad on the 15 inch MacBook Pro is 2x larger, and a 2nd-gen butterfly mechanism on the keyboard.
TouchBar: the function key killer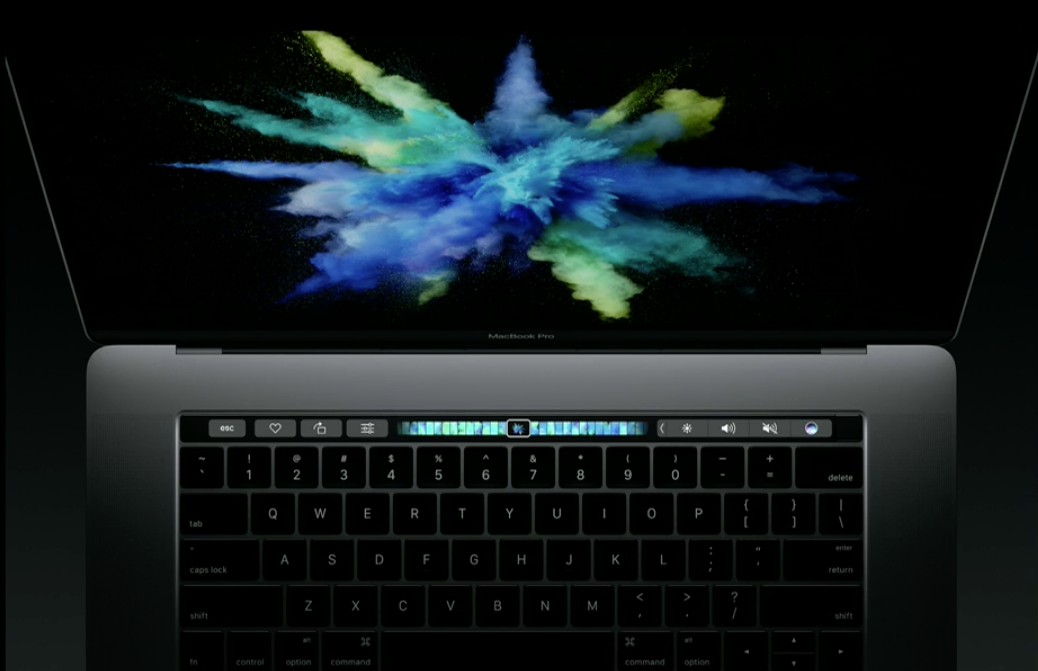 As expected based on the rumours, the MacBooks do include the all new "TouchBar" at the top of the keyboard — replacing the older function keys. It responds to gestures and taps, and changes contextually based on the software you're using, which is bound to be great for productivity.
Safari will include a search field, while the Photos app will include editing tools and Siri shortcuts. You even get quick-type suggestions in productivity apps.
What's useful about TouchBar is that in certain apps (Photos for instance) where you'd like to maximise screen space, TouchBar replaces the on-screen menu and places them within hands-reach. It almost feels like Apple is doing anything they can to avoid you touching the display itself and giving you tools to do it all from the keyboard area.
You can customise the primary TouchBar icons/settings based on your common uses.
TouchID comes to Mac
Apple has also introduced TouchID into TouchBar which is exciting, as it'll improve security even more and make it easy to purchase things online.
What's really cool about TouchID on the Mac is that you can assign each user on your machine with their own fingerprint. So when they want to log into their account, all they have to do it press down TouchID and macOS will automatically log them in. No clicking around or having to enter passwords.
MacBook Pro: display
The new MacBook Pro's display is now 67% brighter, has a 67% higher contrast ratio and has 25% more colours.
Specs
The new 15 inch MacBook Pros all come with i7 processors, Radeon Pro graphics with up to 4GB of video memory, 50% faster SSD up to 3.1GB/s and an all new speaker design with 2x dynamic range.
MacBook Pro also includes four Thunderbolt 3 ports (USB C ports) can be used for the usual storage inputs, or you can charge the MacBook with any of them too.
Apple is also promising up to 10 hours of battery life.
---
This story is developing…