External drives are getting faster, smaller and larger in storage capacity every year. With so many options to choose from, it can be difficult to narrow down the right one for you.
The G-Drive Slim SSD by G-Technology has a few things going for it: a nice design, fast storage, a light/compact form factor and lastly, a very reasonable price point of £150/$170 at the time of writing.
I've got the 500GB version here (there's also a 1TB model) promising speeds of 540 MB/s, so here's my full review based on a few months of use.
G-Drive Slim SSD: Design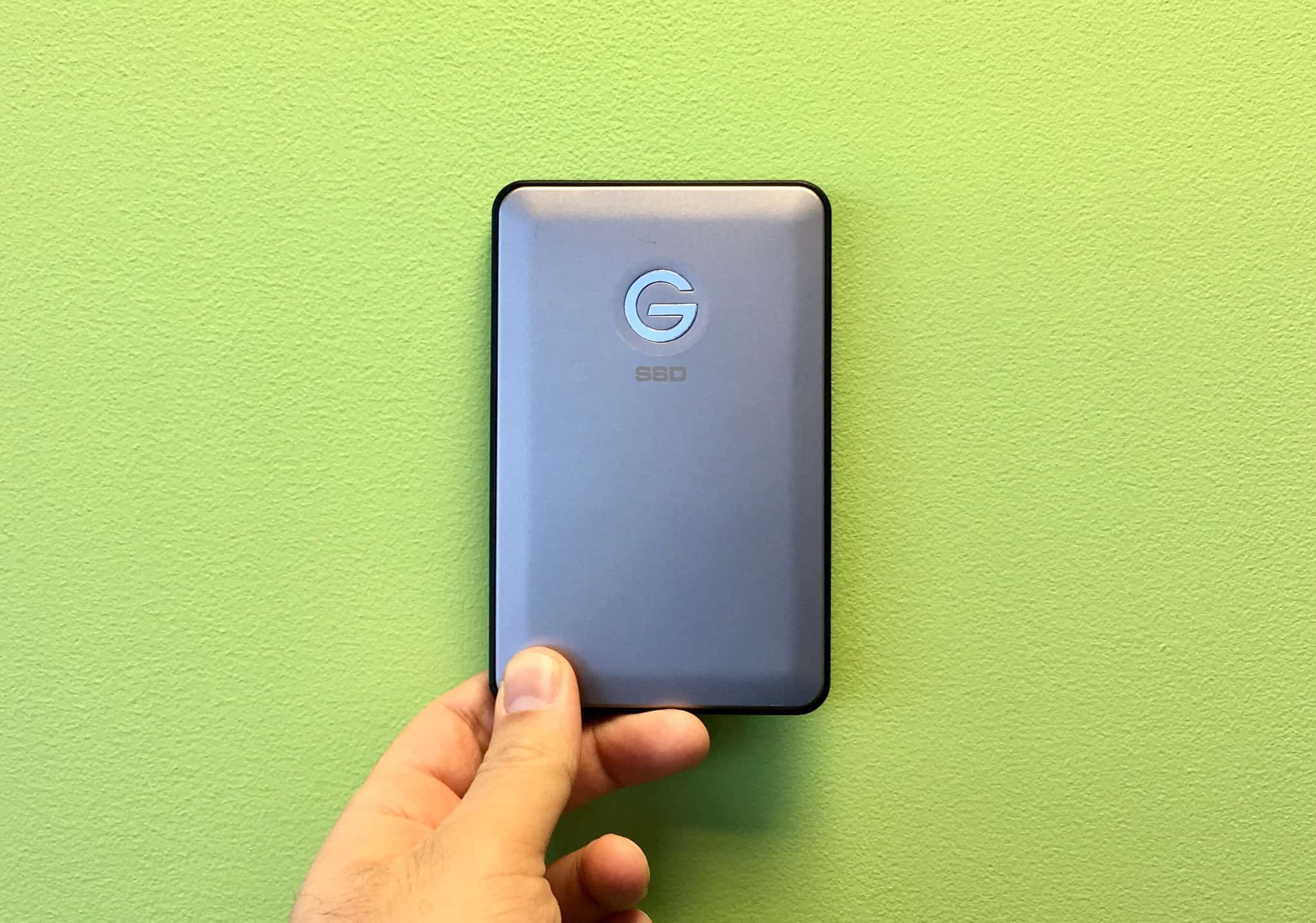 Geared towards Apple users, the G-Drive Slim SSD's design has a very typical grey & black design aimed to compliment MacBooks, so I'm a fan. It's cased in an aluminium body so you would have expected it to feel dense or hefty, but in reality, the SSD feels very hollow and astonishingly lightweight at just 127 grams — a surprise considering its dimensions of 5.08" x 3.23" x 0.39".
There's a black plastic bumper surrounding the drive to protect it from knocks, and the aluminium body feels reasonably strong, but I don't think the Slim SSD is built to withstand any serious damage.
After a few months of use, I have only noticed some light scuffs on the back and other than that, the G-Drive Slim SSD continues to look great.
In terms of connectivity, the G-Drive Slim SSD is made for USB-C and can support any Thunderbolt 3 or USB 3.0 ports too, thanks to the included cables G-Tech ships in the box.
G-Drive Slim SSD: Performance
Using the G-Drive Slim SSD is a simple plug-and-play situation if you're using a Mac; no extra configuration needed. If you happen to use a Windows, you'll need to do some additional formatting to make it compatible, and G-Tech has a "Windows Wizard" available on their G-Drive Slim SSD product page if you need help.
Plugged into my 2014 MacBook Pro (2.6 GHz i5 and 8GB RAM) with USB 3.0 ports and tested with Blackmagic Speed Test, the G-Drive Slim SSD clocked up write speeds of over 310 MB/s and read speeds of over 420 MB/s.
Although that's fast in its own right, it's still slower than the advertised 540 MB/s because I'm using an older version of USB. You can expect speeds closer to that 540 MB/s if your newer Mac/PC has USB 3.1 (USB-C) ports.
G-Drive Slim SSD: Verdict
From a performance point of view, the G-Drive Slim SSD goes head-to-head with a lot of other external SSDs on the market. This drive definitely performs well and looks great, and truthfully the only thing that would push me towards the more compact alternatives is portability; for about £30 more you're getting a drive that's approximately half the size, so compactness matters to you then external drives like the WD My Passport SSD may be worth looking at.
While you may not be getting the smallest SSD on the market, a combination of good design, performance and value for money earn the G-Drive Slim SSD a recommendation from me — especially if you can grab yourself a good deal.
Buy the G-Drive Slim SSD