There have been various rumours around the prospect of Amazon releasing their own smartphone, and earlier this week, they finally hit the market with their own smartphone called the 'Fire Phone'.
It's packing a resolution of 1280 x 720px and a pixel density of 312 ppi into a 4.7″ IPS LCD capacitive display. Amazon's first smartphone takes things further than just a normal touch screen display though, with four sensors surrounding the screen for the 3D tracking, or Dynamic Perspective as Amazon call it.
Dynamic Perspective is defined as "a custom-designed sensor system that responds to how you hold, view, and move your phone", so paired with Amazon's Developer Kit, it'll be interesting to see how developers can take advantage of the phone's sensors to incorporate peek, tilt and zoom functionality for apps & games.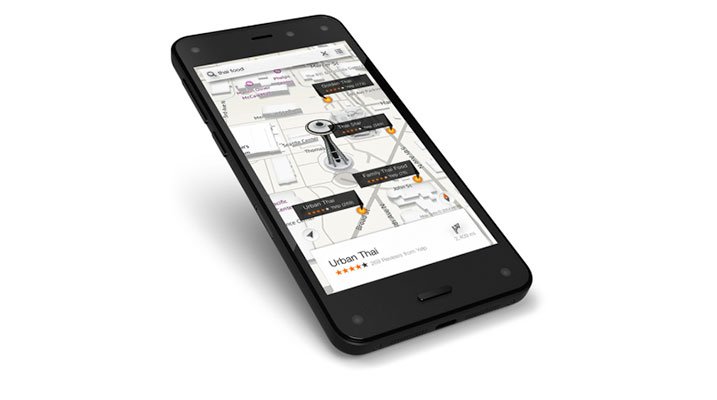 Four sensors on Amazon's Fire Phone offer Dynamic Perspective.
Whilst there was an expectation for a low range device from Amazon, the specifications for the Fire Phone are relatively high. Inside we have a Quad-core 2.2 GHz Qualcomm Snapdragon 800 processor with an Adreno 330 GPU, 2GB of RAM and a non-removable Li-Ion 2400 mAh battery.
With the rising popularity of image sharing apps like Instagram and Snapchat, camera quality is becoming increasingly important, and a lot more companies seem to be trying to master the optics they put into their phones. Amazon is definitely no exception, introducing a rear-facing 13-megapixel camera that shoots stills at a resolution of 4128 x 3096 pixels. As well the camera having optical image stabilisation, there's also a 2.1-megapixel front-facing camera.
Amazon did seem to stay away from the 4K camera trend which is currently going on with most phones, sticking instead with a 1080p resolution (1920 x 1080) at 30fps video on the rear-facing camera.

Camera comparison with Samsung S5 and iPhone 5S.
In terms of software, Amazon's Fire Phone is using Fire OS v3.5 on top of Android, making the Android Play Store inaccessible. Outside of the mainstream apps you'd expect, Amazon's own app store doesn't offer quite the same range of options as iOS or Android, but they do offer a few bonus services to make up for it like a free one year subscription to Amazon Prime, the Kindle Store and most notably, MayDay & Firefly.
Mayday, which is Amazon's instant customer support service for tablets, is now available for the Fire Phone too — a feature addition that will make Amazon customers happy no-doubt. However, Firefly is the most notable software feature, as it allows you to identify a product by lining it up to the phone's camera. Once Firefly identifies the product — whether it's a CD, DVD, book, food or anything else for that matter — it then offers you the ability to listen to a song, watch a video or instantly add it to your Amazon shopping basket.
Amazon's Firefly feature scanning a jar of Nutella.
The Amazon Fire Phone ships on July 25th exclusively on AT&T for just $199 with a two year contract or $649 off contract for the 32GB model. An extra $100 gets you the 64GB model, although neither have upgradable storage. Supplied with the Fire Phone are a pair of magnetic tangle-free ear buds (which bear a large resemblance to Apple's earbuds), and the built-in dual stereo speakers seem like they will provide decent audio for most tasks due to the Dolby Digital Plus sound enhancement technology.
---
Specifications:
4.7″ IPS LCD capacitive display (1280×720/312 ppi)
Quad-core 2.2 GHz Qualcomm Snapdragon 800 processor
Adreno 330 GPU
2GB of RAM
13-megapixel rear-facing camera (4128×3096 pixel stills/[email protected])
2.1-megapixel front-facing camera
Non-removable Li-Ion 2400 mAh battery
Amazon Fire OS v3.5 (Android based OS)
Ships July 25th exclusively on AT&T
32GB ($199 on contract/$649 off contract) – 64GB ($299 on contract/$749 off contract)
---
Full event video
---
Pre-order the Brand New Amazon Fire Phone
Are you Following Let's Talk Tech?
Be sure to follow us on Facebook, Twitter and Google+ so you don't miss out on our next article!
Specifications from GSMArena