Fresh from CES 2014, Sony was keen to show off their latest product line up here in the UK. So, when they sent me an invite to go and play with all the latest tech at their headquarters in Weybridge, Surrey; it was an opportunity I wasn't going to pass up.
Walking in, it was clear that Sony was clearly very proud of their sponsorship of the World Cup in Brazil; the entire reception area was covered in football-themed decoration and even the ground was laid with astroturf! What caught my eye over any of the decor though was the football clips playing on Sony's gorgeous X9 4K TV. It was incredibly sharp and detailed, largely due to Sony's optimised 'Football Mode' setting; something they developed for the World Cup.
Once we got stuck in to some refreshments, the Sony staff guided us in to a short presentation where they told us that the evening would be split in to two 'masterclasses'; one for photography and one for TVs.
Admittedly, I've never had the opportunity to get technical with camera equipment, so the prospect of learning more was exciting. To start with, my group got taken to the TV masterclass.
TV Masterclass
Where 3D was once dubbed to be the next best thing in TV,  4K has actually been stealing a lot of the attention recently in the tech world. So much so in fact, that Sony's demonstrator even told us that "Sony's position on 3D is that we're focusing on 4K". That was clearly backed up by the fact that all the TVs in the demo room were 4K — without a single dedicated 3D TV in sight.
When we were given a tour of the different TVs, Sony's Triluminos technology really left an impression. It essentially allows the display to show a wider variation of colours; improving depth and the finer details on the screen. Even the viewing angles were superior on this Triluminos display. As you might be able to see in the photo above (apologies, it wasn't the best shot!), the two TVs on the left and far right seemed to lose clarity and colour at wider angles, whereas the colours on Sony's middle TV stayed true and rich.
As well as the Triluminos displays, Sony's 4K TVs also include X-Reality PRO, a technology that "cleans and refines to create superior picture quality from any source. Sony's latest-generation Reality Creation database and Super Resolution processing deliver finer detail, richer colour and striking contrast."
Check out the video below for more information on that, but the bottom line is that these two technologies delivered excellent image quality:
Sony's X9 4K TV
Moving from that demonstration, Sony wanted to show off the audio capabilities of the inbuilt speakers on the flagship X9 4K TV. In comparison to traditional down-facing speakers, the front firing speakers on the X9 were seriously impressive.
These speakers on the X9 use magnetic fluid, a design that (according to Sony) delivers 60% more sound and minimal distortion. This improved sound quality is also helped by Sony's adoption of a wedge design; leaving more room for larger speakers and better sound.
Leaving aside the geeky/technical stuff though, the sound was clear, loud and far more immersive than anything else I've heard from a TV before. Sony even sell a subwoofer you can connect to wirelessly via the TVs USB port, meaning you can make the most of the TV's speakers with some added 'oomph' for those explosive action movies.
While I'm still impressed by the audio performance of Sony's flagship TV, I can't help but think; if you're spending over £3000-4000 on a TV, surely you'd want a complete 5.1 sound system to go with it?
That opinion will of course vary from person to person, but still, the in-built speakers still significantly improve the casual TV experience so it's a nice feature to have when you're paying premium prices. If nothing else, it helps Sony to create a unique selling point for their 4K lineup.
2014 UPDATED MODEL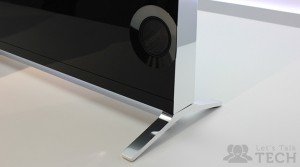 A short while after being shown the 2013 version of the X9 and its audio performance, we were taken to the 2014 updated model.
Keeping consistent with their wedge shaped design, the 2014 version of the X9 certainly has a massive presence to it. The front facing speakers have been slightly repositioned and the tweeters are now made out of fibreglass, with both changes being made to optimise audio performance.
I can imagine people being sceptical about the wedge shaped design, especially because there's been a growing trend towards slimmer TVs. In my opinion though, the extra bulk at the bottom is a trade-off I'd happily make for the improved audio and display quality; especially because Sony has done a fantastic job of still making it look good.
Photography Masterclass
As I said before, when it comes to photography I'm a complete and utter newbie. In fact, I only learnt how to adjust ISO and aperture on my DSLR today!
Either way, it was hard not to be taken aback by what Sony had on display; from the 4K handycam which was very compact, to the array of attachable lenses and compact DSLRs.
What was interesting to see was the effort they've put in on the software front, with their PlayMemories camera apps. These apps essentially give you additional options to play with when taking & editing photos, with apps ranging from Picture Effect+ which allows you to turn photos in to illustrations, to the Smart Remote Control app which enables you to control your camera with your smartphone. In one example, Sony's Technical Marketing Manager even showed us how to add a light ray when taking a photograph without the need for Photoshop.
While a more seasoned photographer might not be humoured by some of those features, the additional software Sony offers certainly adds plenty of value to their camera lineup.
Sony In 2014
All in all, Sony's 2014 lineup looks pretty impressive to me. Their cameras have become more compact, the additional software adds plenty of value and I can see the 4K handycam being popular because of its size.
It was the TV lineup that impressed me most though. Sony have in a way gone against the grain with their wedge design, and although it compromises on a slim form factor, it makes up for it with admirable performance. The Triluminos & X-Reality PRO technology do a great job at improving the image quality and with those gorgeous front-facing speakers, I can see the Sony X9 TV being on the wish list of anybody who can afford it!
Gallery
This slideshow requires JavaScript.