As an iPad user you'll probably know by now that watching HD content on that pixel-packed Retina display is an awesome experience. Isn't it a shame that the sound quality from the iPad's speakers never does it justice?
Now don't get me wrong, the internal speakers are fine for every day use like watching YouTube videos for example, but it just doesn't cut it when it comes to watching your favourite movies or TV series.
So if you want to upgrade your iPad's sound with a portable mini-theatre experience, the Boompack iPad speaker case from award-winning brand IN2UIT may need to go on your wish list.
OTHER IN2UIT PRODUCT REVIEWS:
Design & Build Quality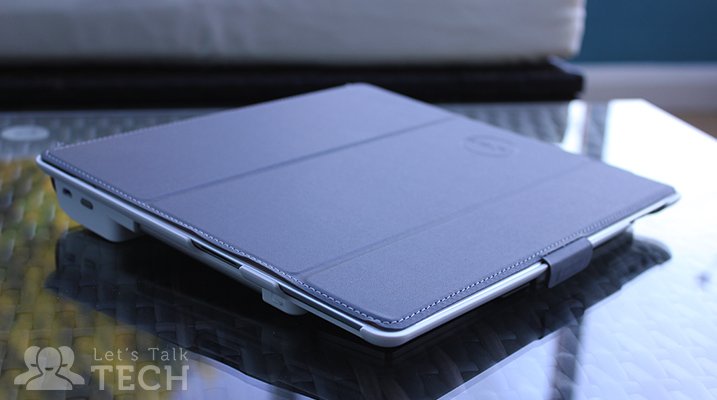 Given that it's packing two foldable (and incredibly thin) 6mm tweeter panels and a subwoofer with an 8 watt speaker output at the bottom too, the Boompack is an iPad case weighing a very reasonable 0.7kg.
Sizing up at 246mm (W) x 229mm (H) x 29mm (D), there's no doubt that you'll be carrying a little extra bulk compared to a standalone iPad, but the Boompack is meant to be a portable media station rather than a permanent case so it's a fair compromise to make. You'll find that most of the added bulk is at the bottom of the case where the subwoofer is, since the folded tweeter panels add little to the iPad casing itself.
Attached to the very simplistic and modest plastic iPad case, you'll find a magnetic bicast leather cover with a very nicely branded orange micro fibre interior. It has a premium look & feel to it and the magnetic strap at the top of the cover latches on to either the top of the case – keeping it securely closed, or the back to support as a stand when it's fully set up.
After messing around with the setup, I also found out that there are a couple of alternate viewing angles (using the magnet's position on the back) which was really convenient for awkward positions.
Fortunately for those who frequently upgrade their iPads, the case doesn't use a physical connection to the iPad, so whether you use a Lightning or thirty-pin adapter you'll be able to fit in any of the 2nd, 3rd and 4th gen iPads.
Other than that, the IN2UIT badge on the right of the subwoofer is the only eye catching part of the case, lighting up in blue when it's synced up with your iPad. It's a nice touch to add some life to the design subtlety of the Boompack, although it did get a little distracting when watching content.
Performance
Whilst the dimensions of the 6mm tweeter panels are noteworthy, the technology behind them is even more so. IN2UIT is able to pull off super impressive sound with a slimline speaker system thanks to their proprietary Electrostatz Technology, which unlike a common cone speaker, uses no mechanical parts.
Bring in their partnership with CSR and the inclusion of apt-X Bluetooth Codec technology which delivers high-fidelity sound – comparable to CD quality or full 'wired' audio quality – and it's a recipe for serious performance and a fantastic media experience. If you're interested in a more detailed drill down of these technologies, feel free to read this technology comparison review.
Using the Boompack to play an action packed movie like Avengers Assemble was a tough test to past in my opinion, and even with the sound of crushing metal and roar of Marvel's superheroes, it performed remarkably well – finding a comfortable balance between explosive bass and clearly defined mid-tones & treble.
There were one or two times where I had to drop the volume by a bar or two when streaming YouTube content for example, but with music or HD content from the iPad it hardly showed signs of struggling and produced some awesome sound.
IN2UIT Boompack: The Bottom Line
The Boompack successfully delivers a combination of portability people seek in iPad cases, with a stylish, high quality media experience. If you're tired of the poor sound quality coming out of your iPad's speakers and need something more exciting – this speaker case brings it all in a single, portable solution.
On the flip side, that level of quality and technology comes with a slightly high-end price tag of £166 ($229 in the US), although it's worth noting that it is a common price-point for products in this category. External bluetooth speakers are always a logical alternative – but for an all-in-one speaker upgrade the IN2UIT Boompack is a serious contender for you to consider.
ORDER FROM AMAZON
Gallery