Pros:
• Very modern & stylish design
• Excellent mid-range sound
Cons:
• Quite expensive at £399
• Bass across different genres could be better
---
If you're a design-conscious person and want a speaker system that'll add some style to your home, then IN2UIT's Collage Bluetooth speaker may be worth your attention.
Able to sit on a flat surface or extravagantly mounted on the wall like it's a piece of modern art, the IN2UIT Collage is certain to add a touch of style to your home setup; albeit for an asking price of £399 which leaves it among stiff competition.
The Collage speaker isn't just a pretty thing to look at though. It packs apt-X Bluetooth technology (for high quality sound comparable to wired connection), a digital amplifier, two 2-inch woofers, a passive radiator for more bass response and two tweeter panels using their Electrostatz technology; altogether producing a 25 watt output.
OTHER IN2UIT PRODUCT REVIEWS:
Design & Features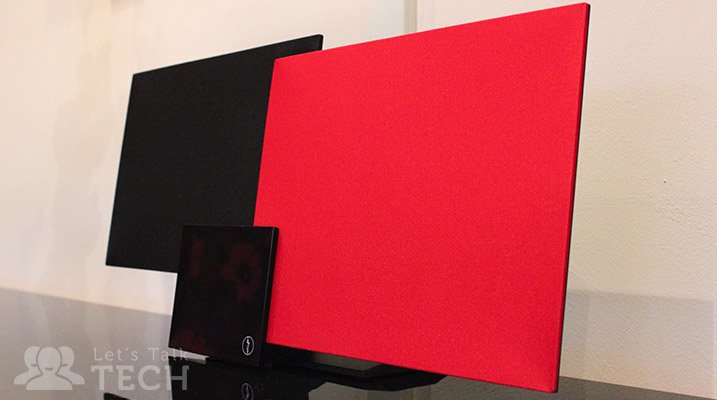 The IN2UIT Collage is available in a couple of colour combinations; black/red like I opted for and white/beige too, a more subtle and chic looking colour combo.
Regardless of what colour you choose, it's the design of those gorgeous overlapping tweeter panels that grab all of your attention when you look at the Collage speaker. As if the overlapping design wasn't enough, you're in for a surprise when you lean over to check just how thin the 6mm tweeter panels are.
You must be wondering how the speaker panels can be so thin, right?
Well, using the same Electrostatz technology they use in the Boompack iPad speaker case I reviewed last year, IN2UIT is able to make their tweeter panels so thin and compact because they use no mechanical parts, unlike traditional speakers.
If you want to know more about that head over to this link, but leaving the technicalities aside this technology allows IN2UIT to create this kind of slimline design across their product range.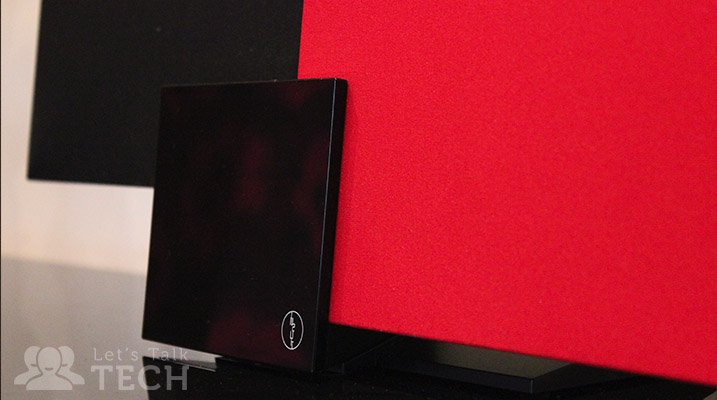 Once you take your eyes off the eye-catching tweeter panels, the only other part of the Collage that's directly visible to the eye is the glossy black console sitting underneath them.
IN2UIT haven't really done much with this part of the speaker, including only a power button at the top that you also use for Bluetooth pairing. Although having a single button stays in line with the elegant/minimalist design IN2UIT have gone for with the Collage, I felt like at least some volume controls would have been useful — especially for those times when you want to adjust the volume but can't find your phone or tablet!
Around the back of the speaker, you'll find the two 2-inch neodymium subwoofers (that vertical glossy looking panel in the middle), a power and auxiliary input; just in case you prefer physical connectivity over Bluetooth.
IN2UIT also conveniently leaves ready-made holes for you to mount the Collage on to the wall if you wish to. I would have loved to do this myself, but the thought of having a power cable hanging down the wall underneath the speaker was a turn-off for me, so I decided to leave it on the TV stand.
Performance
The all-round performance of the Collage is impressive, particularly when it comes to vocals. The bass isn't as strong as I would like across different genres and songs sometimes sounded flat at higher volumes, but the vocals were consistently powerful and clear.
For the sake of performance, IN2UIT say that the speaker should ideally be wall mounted because it allows the tweeter panels to reverberate sound waves off the wall, whilst allowing the rear-facing subwoofers to produce more responsive bass.
Although the speaker can be set up on any flat surface and produce pretty good results, it was when I positioned the speaker against the wall that I got the best results. The speaker was able to use the wall to amplify the sound and as a consequence, the bass sounded deeper and created a more immersive listening experience.
After trying it out in a wall-mounted position for myself, it was easy to notice how much of a positive difference the speaker placement makes to the sound quality over having it on a flat surface. Having it on the wall optimised the mids and trebles coming out of the tweeter panels and the bass felt like it really got round the room better, since the sound was able to reverberate off the entire wall.
Going through different musical genres, my general feeling was that bass-heavy Hip-Hop pushed the Collage speaker to its best, bringing out the best of the low & mid-ranges. With other genres like R'n'B and Rock, the Collage lacked the kind of bass I would have liked and the treble felt a little washed out at times (especially at louder volumes), but the vocal clarity in the mid-range was fantastic and made up for that.
When it came to Bluetooth versus physical connection, IN2UIT's Collage performed extremely well with both options. The Bluetooth connection in particular was super impressive, which is no surprise considering that this speaker uses CSR's apt-X Bluetooth codec.
The Bottom Line
Priced at around £399, IN2UIT faces a lot of competition from high quality audio systems like the Sonos Play:5 which is cheaper at around £350. That price gap makes it hard to justify choosing the Collage based on performance or features alone, especially when Sonos (as an example) offers a lot of added value like a product ecosystem and dedicated apps.
Where the Collage stands out however, is in its ability to blend excellent performance with award winning design, and that's something that not many other speakers have. Ultimately, if that blend is something you value and are willing to pay for, then the IN2UIT Collage will be a great choice for you.
ORDER FROM AMAZON U.K.
ORDER FROM AMAZON U.S.