Pros:
• High quality materials
• Good level of protection
Cons:
• Pricey at $49.95
• Using both card slots adds too much bulk
---
When it comes to my average day-to-day routine, I like to have a couple of things accessible to me at all times — my iPhone and my money. That's exactly why I use an iPhone sleeve at the moment with card slots for quick and easy access to both. It actually works well for me, leaving aside the lack of protection for my phone.
That's where Maroo's leather wallet case comes in. It's essentially a foldable case made for the iPhone 5 & 5S that's ideal for people who like to keep all of their important stuff in one place, but want protection for their device too.
Made with a black genuine leather exterior (also available in brown and plum), Maroo's wallet case feels amazing in the hand and has a seriously premium feel to it. In light of the $49.95 price tag (£39.99 in the UK), it's nice to know that you're getting value for money so Maroo have done well there.
As part of the design, the black leather surrounding the wallet case is complemented by green accents on the front cover as well as the interior lining of the card slots.
Open up the case and you're greeted with a polycarbonate shell for your iPhone. It's got a very nice soft-touch feel to it and as with most Maroo products, has a quote printed in the middle of the iPhone's placeholder; this time educating us about the definition of the word "Maroo" in different languages.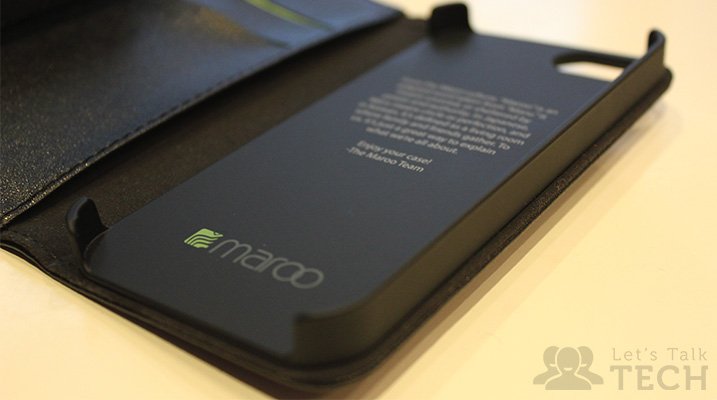 What I particularly liked about that polycarbonate shell was it's build quality. Even though it has a great soft-touch feel to it, it's extremely rigid and will give you a lot of confidence in its ability to protect your iPhone. I tried manipulating it with quite some force and it was very strong; resisting most of my attempts to bend it out of shape.
Also, the shell sits a few millimetres away from the edges of the leather exterior; meaning the top and bottom of your iPhone won't be exposed to outside damage.
On the opposite side to the iPhone, the inside of the cover has two dedicated card slots with an additional slot for your cash behind them. It's a nice addition to the case, although naturally the more stuff you put in the case the chunkier it becomes!
On that note, after inserting my cards in to the slots I did find that the case bulked up with an awkward few millimetres of space between the phone and the cards. Although it isn't ideal, it's inevitable because of the nature of the case and Maroo did make the magnetic strap longer so that it can wrap tightly around the case either way.
The Bottom Line
Although Maroo's wallet case will inevitably gain thickness as you add your cards or cash in to the allocated slots – the magnetic strap wraps around your iPhone well and stays in place.
Looking beyond that caveat, this case is an excellent, premium quality product. The price point is undoubtedly high at just under $50 but it's reflective of the high quality materials used; and with that in mind you can be sure that you're getting what you pay for.
ORDER FROM AMAZON U.K.
ORDER FROM MAROO.COM