The Good: An aesthetically perfect companion for a mobile music lover that adds depth and character to any high quality music source.
The Bad: Nothing to speak of apart from the cost; your headphones will need to be good to get the full value of this product.
The Verdict: This maybe a game changer for music on the move: it is stylish, compact and presents a fantastic sound, particularly given the price compared to other portable DAC amplifiers
---
The Oppo HA-2 is a mobile phone sized headphone amplifier that doubles up as a PC/MAC DAC alternative and then trebles up as a battery power pack if you're out and about and need to charge your phone.
Mobile Phone sized DAC headphone amp on a Nexus 5
---
Out of the box
Oppo are Apple-esque in their packaging and boxing department, and the HA-2 amp is no exception to their very high standards of presentation. The box has the slightly grained feel that immediately gives you the reward for spending over £250 on a rather luxurious purchase. In the box there is a selection of leads to enable connection to Apple devices with the Lightning connector (not the old 30 pin iPods though), a lead for USB-B Android connection and a rather neat VOOC fast charging lead that works a treat.
Also in the box are two Oppo branded Elastic bands to help you keep control of the amplifier and phone together in your pocket.
Technology
The amplifier has Digital to Analogue conversion by ESS Sabre32 Reference ES9018 K2M DAC chip. Loads of letters and numbers there but what you need to know is that it's good! It certainly sounds better than your phone because it takes the digital file directly from the source into the DAC using one of the leads supplied.
There is no DSP (Digital Signal Processor) in the HA-2. This means that volume control is operated by a combination of the DAC chip's internal digital volume control and a familiar volume knob. Bass boost is performed by pure analogue audio circuits. By avoiding re-digitizing the audio signal for volume adjustment or bass boost, the HA-2 provides a clean signal path for the audio.
I have used Tidal Music Streaming and my Nexus 5 as a source, which has worked seamlessly (I'm running Android 5.1 Lollipop that has USB OTG, on-the-go). I've had a play with an iPhone 6 which also worked well.
If you wanted to use an old iPod you could plug in the output from it using the 3.5mm jack into the 3.5mm jack input on the HA-2 and choose the relevant input selection. I don't believe there is a 30 pin adaptor for this product but please do let me know in the comments if there is.
There are two gain level settings: the High Gain mode is capable of driving larger power-hungry headphones, delivering up to 300 mW into 16-Ohm headphones whilst the Low Gain mode is intended for more sensitive In-Ear Monitor type 'buds'.
The Sabre DAC supports PCM (WAV, etc files are Pulse Code Modulated) sources up to 384kHz and 32 bit encryption and Direct Stream Digital files (DSD is single bit) if you have them up to 12MHz.
The HA charge level is shown by a series of four indicators to 100%. I have achieved 16 hours of continuous usage to get the battery indicator to below 25%. The HA-2 has a rapid charge system that recharges the amplifier promptly. In my home test this charged the HA-2 from pretty low (<25%) to 75% in 25 minutes and 100% in about 65 minutes. You do have to use the supplied lead however; I tried using my phone charger and it is not effective.
Design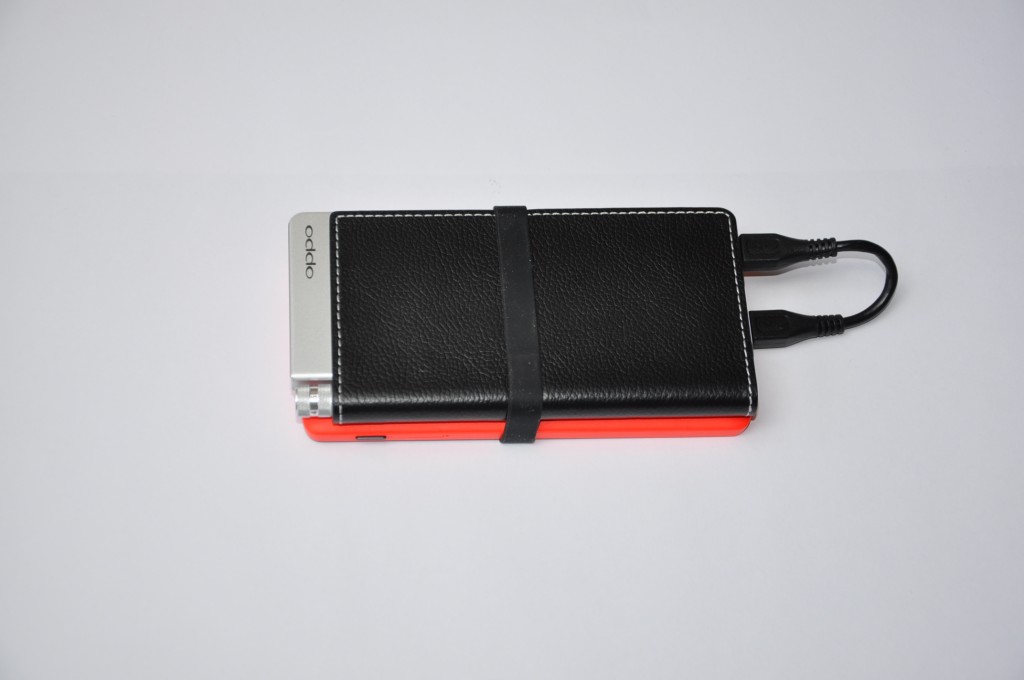 Leather outer on Aluminium Chassis
---
The amplifier itself is an aesthetic beauty in my view; a blend of Alfred Dunhill meets Jaguar's new F-Type. It has an ultra slim leather exterior with a bevelled edge aluminium chassis which makes it look truly classy — and bear in mind it's only a headphone amplifier! Although it is weighty at 175 grams, the HA-2 amp isn't too obtrusive.
Performance
There is not even a slight difference in the audio quality from my Nexus 5, a phone that I had previously considered to give me a better performance than an iPhone (owing to the file quality I can store). The difference is absolutely profound if you play FLAC or ALAC lossless files from the Nexus 5 through the HA-2 DAC into a good pair of headphones like the Oppo PM-2s.
The sound is pure, has greater depth and feels fuller across the range; the lower end (bass) is greatly enriched. Some audiophiles would say the soundstage is expanded, the mid ranges are crystal clear and the music presented is more centred than without the amplifier.
Basically, it sounds great and you have greater control of the sound you are listening to. This maybe a game changer for music on the move, it is stylish, compact and presents a fantastic sound, particularly given the price. Be warned, however, you will need to have a decent pair of headphones or In Ear Monitors if you are to get the full value of this product. Also you will need to make sure your source music is up to par. I've been using Tidal through the Nexus 5 Android into the HA-2 and PM-2 headphones and it is a wonderfully enriching experience.
Finally, there is a Bass Boost button for all the Hip-Hop dudes out there. It is quite un-necessary in my view and I have not used it.
The HA-2 can be used as an external DAC for a computer or laptop by choosing the correct input selection. A PC will need a download that's available from the Oppo website to install the correct drivers (took me three minutes). A MAC on the other hand will work straight away. Basically this process would replace the sound processing through an electronically 'noisey' computer to a purpose built DAC.

Input selection is on the base
---
Summary
By far my favourite new bit of tech for this year and given my consumption of music on an hourly basis it is an essential piece of equipment to carry whenever I need to hear music on the go or at my computer. Compared other portable headphone amplifiers, this is a real step ahead of many others out there.
ORDER FROM AMAZON U.K.
ORDER FROM OPPO U.S.