Picture this: You're on the move — maybe in a car or a train — mindlessly scrolling through your social media accounts, burning time. Now alternatively, what if you can take those large, bulky and dusty old video game consoles and literally fit all of them into your phone? It's a brilliant (and fun) idea for those long and boring commutes, no?
Introducing RetroArch
RetroArch is the key to playing literally any old game from any old system you can think of, right on your Android device.
Whether it's an absolute classic like the very popular Super Mario Bros. 3 from 1988 on the NES, or the original Metal Gear Solid on the first PlayStation in 1998, RetroArch has you covered. Even the most obscure old consoles are under RetroArch's umbrella, so its large coverage of consoles is not to be underestimated.
RetroArch Compatibility
RetroArch being labelled as an "all-in-one" emulator is a huge understatement. It emulates many different old game consoles, whilst also being supported on a ridiculously large number of modern and old hardware. So no matter what kind of device you have, even if it's considered absolutely obsolete today, RetroArch is capable of being used.
It's available on the Google Play Store for the price of a slight smudge mark on your screen, or in other words — free. RetroArch isn't just available on Android, however, but also for iOS (albeit, not on the App Store), Windows, Linux, Mac OS, Xbox One, Nintendo Switch, your own browser, and more.
Getting started with RetroArch for Android
Now that you've launched RetroArch for yourself, it may seem somewhat daunting and confusing. You may even question what the menus mean; just what are "Cores", for instance?
In RetroArch terms, a Core represents a retro console, and is needed in order to run your games. Downloading a Core, thankfully, is very straight forward:
Tap "Load Core", this is where all of your console configurations will be.
Out of the 3 options, select "Download a Core".
You will then be presented with a list of all of the supported game consoles that you can emulate with this app. Find the console of your choice and tap to download it. You'll receive a message on the bottom of the screen confirming it has been fully downloaded.
Tap the arrow located on the top-left portion of the screen to go back to the Main Menu. Your Core should be automatically loaded into RetroArch now.
You're now ready to play the game that is under the retro console that you've just downloaded as a core. Select "Load Content" and find where your game is stored in your preferred storage media. Tap on it, and "welcome to the next level"!
Improving the retro gaming experience
Playing your old game collection is fine and dandy, but this isn't as far as RetroArch can go in terms of delivering you that exact same experience you had when playing these games on their respective physical units.
Truth be told, you can actually enhance the experience with a few tricks, one main example being the improving of the graphics. A must-have for your game library, in my opinion.
For this example, I will be using Sonic the Hedgehog 3.
Load your game into RetroArch via the "Load Content" button on the Main Menu.
When your game has loaded, tap the RetroArch logo on the virtual controller to access the "Quick Menu". This menu will also be important later for anything you wish to tweak to the individual game when you begin playing.
Swipe downwards until you come across the "Shaders" submenu.
Enable the option, and then head into "Load Shader Preset".
From there, head into the "shaders_glsl" folder. You will find a lot of shaders that you can experiment with to find the best look for your individual game. For many sprite-based 2D games, such as Sonic 3, I recommend the "scalehq" folder, and then either 2xScaleHQ or 4xScaleHQ to suit your preference.
You will get another confirmation message on the bottom of the screen indicating that the shader has been applied, which will take you back to the Shaders menu.
Tap the Back Arrow on the Top-left portion of the screen to get back into the Quick Menu, and swipe up to the top option to resume your game.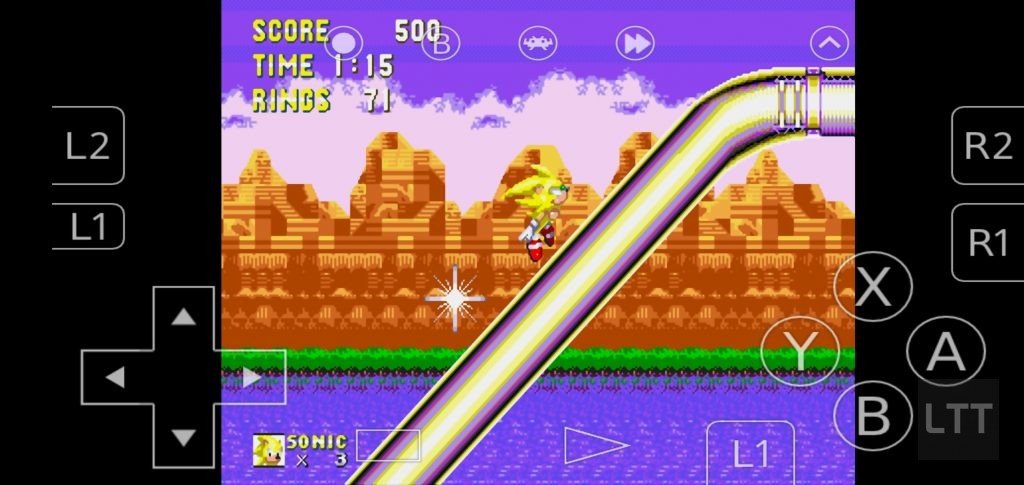 And voila! Your once pixel-like 2D game is now rocking a crispier and more modern look.
But, hold on… What if you wanted Achievements for your games, like the current PlayStation 4 and Xbox One do with their games?
Well, believe it or not, it's absolutely possible to unlock achievements for your old favourites:
Head to RetroAchievements.org and create an account there. You'll need to do this in order to use this feature in RetroArch.
On the RetroArch Main Menu, tap the gear icon on the bottom portion of the screen, and swipe down to the "Achievements" section. Tap it and enable it.
Your first two options will be your Username and Password. Tap each one and enter the same credentials that you used to sign up for RetroAchievements. You may customise the other options as you see fit.
Then simply launch your content and you will receive achievements as you earn them in-game, almost as if you were playing on a modern console! You may also look back on which achievements you've earned and what you have left to complete on the RetroAchievements website.
Conclusion
And that's it! Taking your physical, clunky old console units and playing their respective games on your own smartphones or computers with a lot of flexibility and customisation sounds very enticing and easy to do, does it not?
Download RetroArch today and re-experience your classics wherever you are!