Sonos has a great track record for the quality and the ease of use of their product range, so if you're looking to upgrade your musical experience without splashing out; the Sonos Play:3 is a wireless speaker you'll want to consider.
Priced at £269, the Play:3 is the smaller alternative to its bigger brother the Play:5, and represents an attempt from Sonos to bring the quality they're renowned for to a lower, more affordable price point.
So does it deliver? Let's find out.
Design & Features
Available in either black or white, the Play:3 carries a very simple and non-intrusive design that's common with high end speaker systems. Measuring at 5.2 x 10.6 x 6.3 inches, everything from the 2.6kg dense build to the speaker grille and rubber trims make a clear statement of premium quality which is obvious when you unbox it.
Internally the Sonos is made up of three driver speaker system including one tweeter, two mid-range drivers, and one bass radiator – each powered by its own dedicated amplifier. It has no dedicated subwoofer, but we'll touch on that later in the performance section.
Connectivity & Initial Setup
A lack of physical connectivity was a downside for me. I'd be the first to accept that media streaming is the future – but still, I felt that an auxiliary input would have made sense to make it compatible with other (non-wireless) products like older generation iPods.
That's where their wireless ecosystem comes in. Sonos products have been designed to work seamlessly with their own branded devices, so you can expect the best wireless experience to come from investing in their own ecosystem.
Although doing that quickly stacks up the costs, by investing in other products like the Sonos Bridge you benefit from a 'mesh network'. This allows you to play your music (via desktop or mobile) without relying on a physical connection from the Play:3 to your home network. It would have been nice for Sonos to include the £39 device as standard with a purchase of a Sonos speaker though – since it's almost essential to create a truly wireless setup.
Without a Bridge, the Play:3 needs to connect to your home network using an ethernet cable and for most homes, that means being located near the router which is a big restriction. Alternatively, Powerline Adapters provide access to your network using power sockets although they aren't the most effective solutions – so it's worth factoring in the cost of the Bridge if you're serious about buying any Sonos speaker.
Sonos provided the Bridge for our set up, and it honestly couldn't have been any more effortless. You hook up the Bridge to your router, download the app on your phone, install the desktop app (found on the included CD) and follow a couple of instructions to sync the Sonos devices – that's it. What's more, any time you decide to add another speaker to any other room in the house – the setup is just as painless and you can still control them all in the same way.
Check out the video below to get an idea of just how easy it is.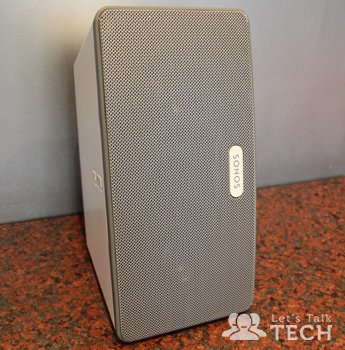 Double The Power
A really useful feature of Sonos Play:3 speakers is their ability to work in Mono or Stereo mode – meaning you can easily set up a room with either one acting as left and right speakers. Doing this will create an awesome listening experience for sure but it's an expensive alternative to the Play:3's bigger brother, the Play:5 (which costs £90 more).
The small rubber feet around the rim of the Play:3 help to avoid scratching any surfaces when it's placed vertically and of course helps to keep it steady.
Dedicated Apps
Sonos speaker systems are controlled using free dedicated desktop and mobile apps. With thousands of worldwide radio stations to choose from plus access to streaming services like Spotify and Napster, the Sonos system provides a wide range of musical options that won't leave you wanting.
If you're already a customer of Napster for example, the integration is seamless and you can start to easily stream songs within moments of setting everything up. What's more, with iOS devices you're able to directly play your music library and using the desktop app, you can also use your existing iTunes library.
Performance
Admittedly, I found myself sitting next to the Play:3 in pure admiration of the sound it created more often than I expected. Considering its size it was impressive how it was able to flood my room with the ideal amount of bass for Hip-Hop, whilst still producing crystal clear vocals for R&B or Soul.
The kick from the bass was actually surprisingly good even without a subwoofer – relying instead on a rear facing bass radiator. I'm used to playing music on my 5.1 surround sound system and honestly I can't say that I missed my subwoofer, that's how good the bass on the Play:3 is.
No matter how hard I pushed it the Play:3 handled pretty much all kinds of music well and considering my varied iTunes library – that's saying something! Although I expected to find a little distortion at higher volumes, it was able to effectively handle bass and treble well.
Even the mesh network worked flawlessly, with no buffering or issues of any sort. I could easily control the speaker from two floors away and there was hardly any lag between the apps and the Play:3.
Sonos Play 3 Speaker: The Bottom Line
It's a real shame that the Play:3 has no ports to handle external connections like Auxiliary cables. I don't think that having that capability would detract from the product in any way – on the contrary it would actually make the user experience easier in circumstances where a media device (like an iPod) may not have wireless connectivity. Also, I felt that the Play:3 needed the Bridge to work properly and it should really be pushed as a necessary addition rather than an optional purchase.
Leaving those small criticisms aside, if you're actively in the market for a premium sound system at a more affordable price point, better alternatives to the Play:3 will be few and far between.
Is it for everyone? – probably not, but for someone who's serious about music and takes real pleasure out of good sound – I don't think you can go wrong with it. When it's all said and done, Sonos' reputation continues to stand strong with the Play:3 and when it comes with a modest £269 price tag, you can rest assured that the investment will be worthwhile.
ORDER FROM AMAZON