The Good: The UE Roll combines quirky design, solid build quality, and truly impressive sound quality for a speaker of this size.
The Bad: Its rear flap could close a little tighter, but it's never given real reason for concern.
The Bottom Line: If you're looking for a sub £100 speaker, look no further. The UE Roll is a brilliant, versatile option that's great value for money.
---
You can find Bluetooth speakers of all types nowadays, but few match the versatility of the Ultimate Ears line-up. The largest of them all, the UE Megaboom, produces fantastic sound quality with a super durable body that's capable of taking anything you throw at it, including being thrown into a swimming pool or down a ski slope. Then you've got the UE Boom, the shrunken down version of the same chassis.
Also read: Ultimate Ears' tough Megaboom speaker can handle anything — even a trip down a ski slope
The smallest of the lot – the UE Roll – takes on a different look altogether and is the most affordable of the lot at just £100.
Typically solid build, with a quirky design
You can comfortably grab the UE Roll speaker with a single hand, and this is coming from someone with a relatively small hand here! It's a super compact speaker that will comfortably get squeezed into your suitcase, right in-between your clothes, without taking up much space.
On the front of the unit you get this nicely textured woven fabric, available in a range of funky designs and colours. The one I have here is red and blue, with yellow stitching used for the +/- volume controls. As with the Megaboom and Boom speakers, UE have kept the layout simplistic with only volume controls on the front which I like.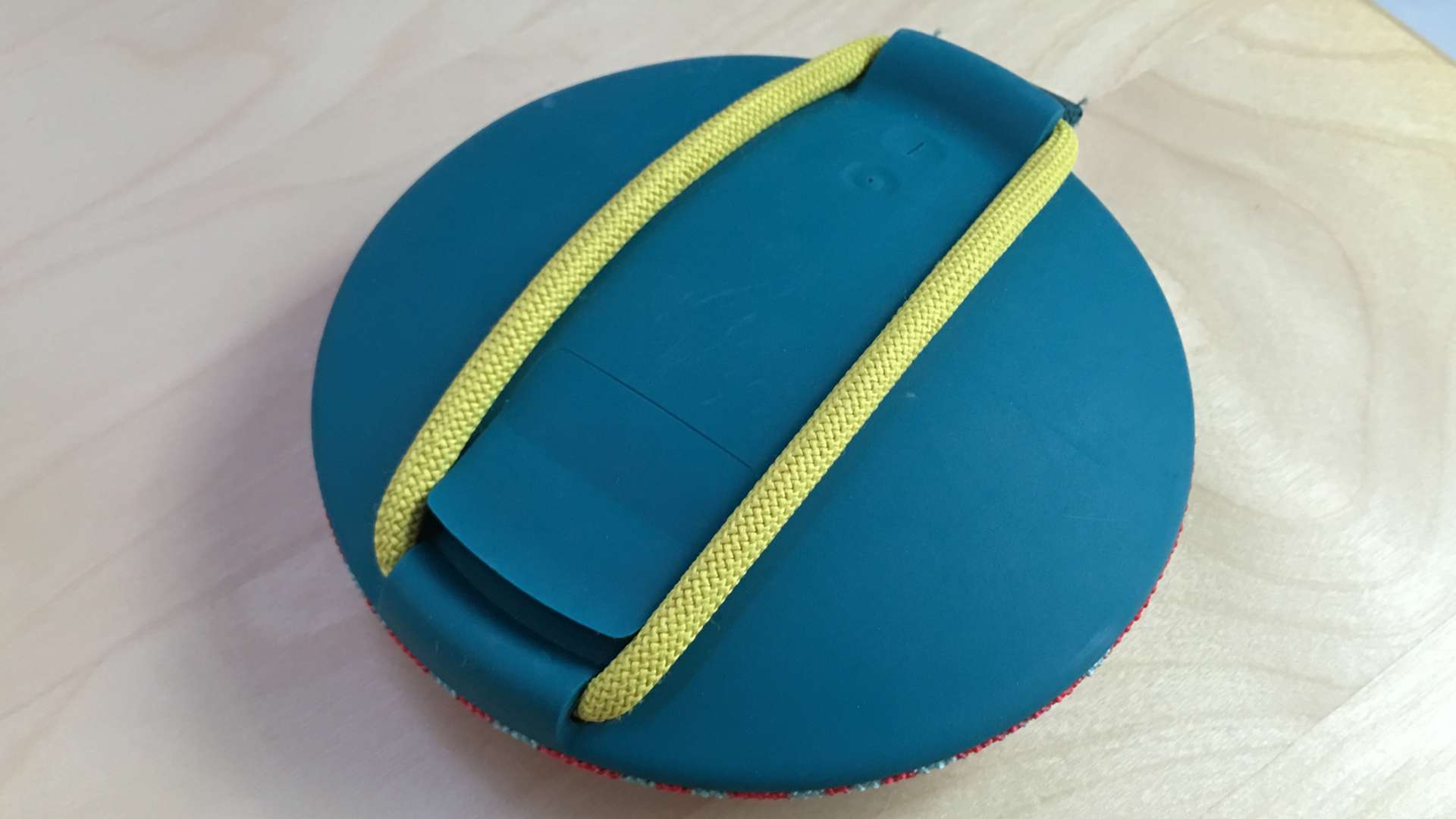 Flip around the UE Roll and you'll get a soft-touch, rubbery-feeling plastic. Here, you'll find a power button and smaller Bluetooth pairing button, along with a flap you can pull up to access the micro USB port (for charging) and the AUX port for plugging into your smartphone or tablet.
Just like its older brothers, the UE Roll feels impressively solid and capable of being thrown around. Thanks to its waterproof design and that flap to protect the ports, you can comfortably throw the speaker into a swimming pool or the shower too.
One small detail I really like about the Roll is the stretchable fabric cord that's neatly strapped around the back. When you unhook that cord, it allows you to dangle the UE Roll from anywhere you want. (My preferred location: over the shower hose!)
Little speaker; big performer
For a speaker of its size, the UE Roll pumps out very impressive sound. It obviously isn't as loud or as bass-heavy as either of its older brothers, but I can't fault it for clarity or sound quality – particularly at higher volumes.
Vocals sound crisp with no noticeable distortion, and trebles sound nice and clear too. You do get a decent amount of bass pumped out from the 2" driver, but again, it's not going to be as emphatic as something like the Boom or Megaboom.
All in all, this compact speaker performs incredibly well, particularly when you take into account its dimensions and price point.
UE Roll: Final Thoughts
There are plenty of speakers around the £100 bracket that could be worth your money, however I think what separates the UE Roll is the same thing that separates the other speakers in its family: versatility.
It's such a compact speaker that packing it into the tightest of bags won't be an issue. It pumps out loud, clear sound that will comfortably fill up entire rooms. And with a waterproof and tough outer shell, the UE Roll gives you a lot of bang for your buck.
My recommendation? Definitely buy one.
ORDER FROM AMAZON U.K.
ORDER FROM AMAZON U.S.