Many thanks to F-Secure Total for sponsoring Let's Talk Tech this month.
---
Without realising it, so many of us leave our devices exposed to outside threats on a daily basis.
Every time you log into a public WiFi network at your local coffee shop, supermarkets or hotels, your data is susceptible to hackers spying and tracking on what you're doing.
F-Secure Total solves that problem by conveniently combining two products — F-Secure Safe for internet security, and F-Secure Freedome VPN for data protection & privacy — into a single subscription costing just £99.99 per year (for 5 devices).
Setting it all up
During the setup process I was under the impression that F-Secure Total bundled both products into one. Actually, you're required to download, install and set up F-Secure Safe and Freedome separately.
Freedome is fairly straightforward. Once I finished installing the app on my MacBook Pro and logged in, Freedome jumps right into its main screen where you can activate or deactivate your VPN connection. The same process applied on my iPhone.
Safe involved a few more steps. After installing the app on my Mac, I also needed to install the browser extension for Chrome/Safari in order for features like "Parental Control" to work, enabling me to block certain websites and categories (very useful if you have kids). I had to figure this out on my own by navigating the app's preferences though which isn't ideal — particularly for the less savvy folks — so a walkthrough or tutorial would have been useful. That said, Safe does give you the ability to choose your browser and automatically opens the appropriate download link for you — so it does half the work.
F-Secure Freedome VPN
Ever since F-Secure introduced me to their VPN solution Freedome, I've used it constantly to keep my data safe in public WiFi zones in the UK and abroad.
It's also an added bonus that a VPN like Freedome allows me to watch blocked content if I'm abroad — let's say Portugal — and want to watch TV from the UK or US. Without getting too technical, VPNs essentially makes you appear as if you're in another country, overriding those restrictions and letting you access the content you want. VPNs aren't just useful for watching your favourite shows either; F-Secure Freedome can be used to get better deals on things like flights and car rentals, since prices can vary from country to country.
So what's it like to use? Honestly, it's stupidly easy.
Once you log in with your email address and password, you have a huge round button that says "Protection OFF/ON" and you literally just have to tap or click on that to get started. Any web browsing you do from that point will be encrypted and you'll be able to select locations like Spain, Italy, Australia or the US. There are 27 locations to choose from, so go nuts!
Freedome has a bunch of other features like "Browsing Protection" that blocks harmful websites and "Tracking Protection" to block advertisers for example from collecting information about you. You can also configure "Private Search" which is basically like searching in private browser mode, and their "Tracker Mapper" tool shows you how you're currently being tracked online.
Truthfully I haven't delved deep into those features until now and mainly use Freedome to access blocked content or be safe in public WiFi. For those purposes, it's incredibly easy and intuitive to use.
F-Secure Safe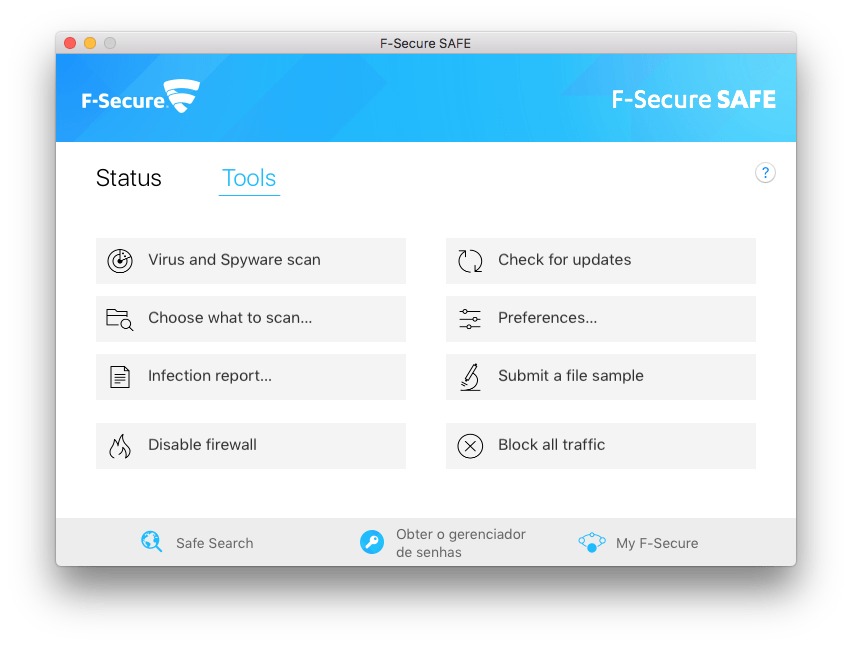 With F-Secure Safe and its browser extension installed on my Mac, I opened Google and started searching. Next to each search result there's a small green or red icon to indicate whether that website is "safe" or not; a useful feature to keep you from any nasty surprises when you open a page.
F-Secure Safe also notifies you when you visit a safe banking site, and even goes as far as blocking all other active internet connections during that time for an added layer of protection.
The "Parental Control" feature is one of the standout features here — at least in my opinion — and it essentially lets you control what websites you can and can't visit. On your iOS and Android device, you can even set time limits and a security code so that you can control usage even better.
It's got a few flaws though. Firstly, F-Secure Safe and its parental feature doesn't work very well on mobile because you're forced to use its own app to browse the web; open any other browser and those restrictions you set in the Safe app don't apply. If you really want Safe to be the only browser on your device you can uninstall or disable your other apps (which involves tweaking your settings), but it's an additional and complicated step for some people. Also, when I run a virus & spyware scan on my Mac it gets very loud & hot — although F-Secure explained that they preferred to make devices work harder to finish the scan quickly, rather than be quiet and take a long time. That's fair.
Despite its limitations on mobile devices, Safe is a good product and the parental features in particular are very useful.
F-Secure TOTAL: First impressions
From a financial point of view, Total's £99.99 combination of F-Secure Safe and Freedome in a single subscription saves you £30 from the £130 you'd pay for them both separately. Although Safe could do with a little polishing, its ability to restrict access to particular websites and categories (along with its timing feature on mobile) is bound to be incredibly useful to parents. And as for Freedome, it's still my go-to VPN app.
Give it a try for yourself using their free 30-day trial.