The Good: Decent design, wireless connectivity, good remote control, loud and bassy sound
The Bad: Lacklustre looks, plasticky parts, poor touch controls, sound quality degradation at high frequencies
The Bottom Line: At £200, the Cayman is far from the worst speaker you could buy in this price range, but neither is it the best
---
Modern audio equipment seems to have a penchant for theatre. The remarkable shapes and design touches employed by the likes of NAD and Bang and Olufsen very obviously add value to their already magnificent, but eye-wateringly priced technology. Gradually, manufacturers at the more affordable end of the market have caught on to this trend, and have done what they can to make their products visually pleasing.
The Kitsound Cayman typifies this. At £200, it is a mid-range speaker that is clearly meant to be the audio centerpiece of any room. It is relatively large, fairly immovable, curved in form, and styled with smooth surfaces and brushed metal. But does it deliver both visual appeal and audio quality? Time to find out.
First Impressions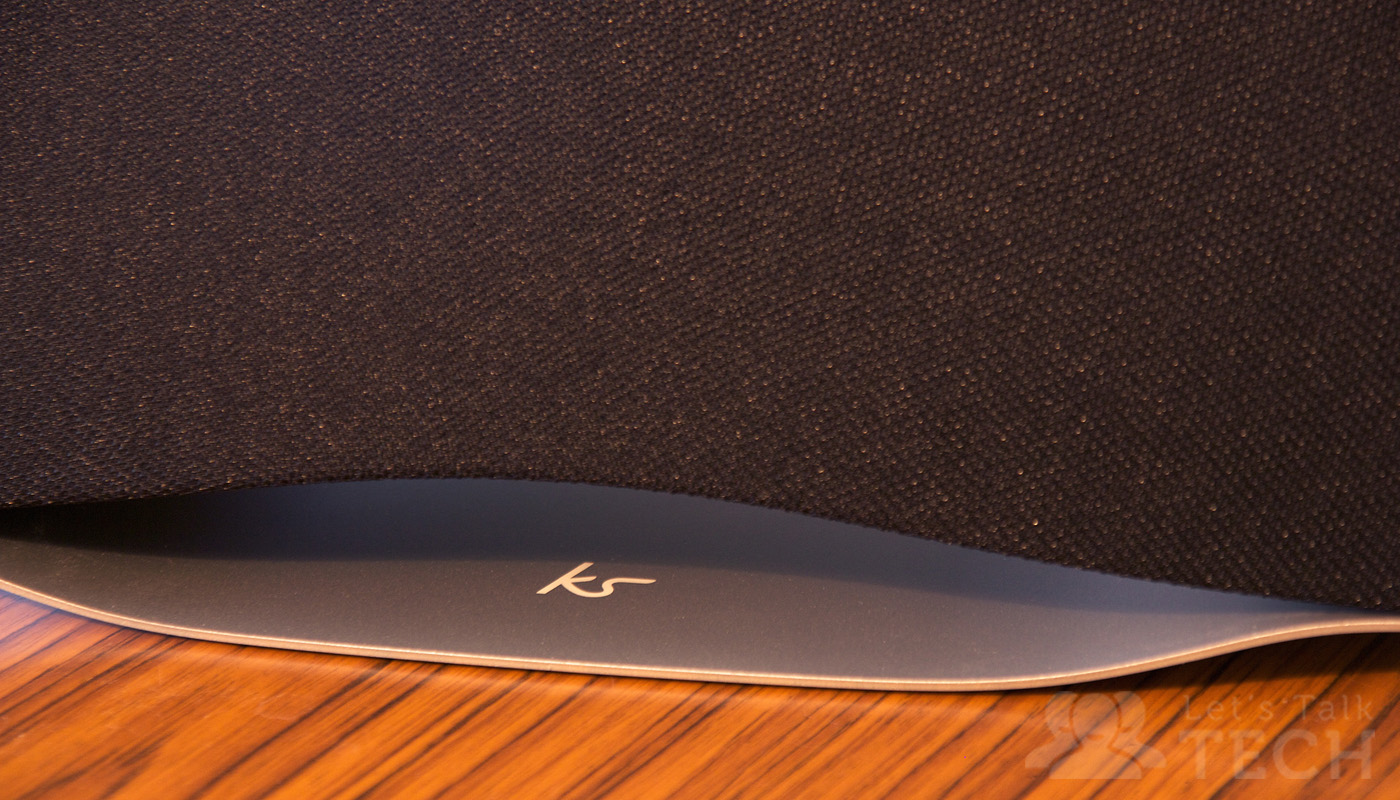 The Cayman's design can best be described as inoffensive.
---
The Cayman is by no means massive, but it is big enough to be quite imposing. At around 22 inches wide, it takes up a decent amount of space on any surface. Yet in spite of its significant girth, this speaker seems to blend into the background. From the front, there is little to see, other than a slightly concave wall of black speaker mesh. The speaker sits on a metallic foot, which is embossed with Kitsound's logo and lit by a coloured standby light. At the back, the styling is more sterile. The gentle curve of plastic has the feel of a decent quality surface, but it is a monotone dreary shade of dark grey.
Dark grey is the colour, all round.
---
The two halves are separated by more plastic, this time of the shiny kind. This strip goes all the way round the speaker like a belt, and it is home to the Cayman's small array of touch-sensitive capacitive controls. These are pleasantly solid to the touch; the rest of the strip feels plasticky and hollow. Likewise, the supplied remote offers a clear layout, but it is made from similar cheap plastic.
Smooth Setup, Decent Usability
Once pressed into action, however, the Cayman is far more impressive. Setup is essentially a case of plug in and play. There are three options for connecting the speaker to your music-giving device of choice: Bluetooth, NFC and line-in. The two wireless options require initial pairing, but after this, the Cayman is very efficient at re-finding source devices. In combination with the internal speaker, the Bluetooth connectivity also means it can be used as a massive speakerphone — a feature which works very well.
The remote has plenty of controls and a good layout, but it feels cheap.
---
In contrast, the touch controls on the top of the speaker are somewhat hit and miss. There is no easy way of telling whether your commands have been received, and you have to be quite precise with your taps to get the message through. However, by far the easiest way to control the speaker is with the remote. As mentioned above, it offers a clear layout, and the array of controls is fairly comprehensive. Along with track and volume controls, you can switch between input modes, take calls, and choose between the speaker's two equaliser settings (more on that below).
It must be mentioned that the Cayman provides a charging port for USB devices, as well. Given that it is hand-me-down power, this is not the quickest way of charging a phone, but it is useful when your handset is being used as an MP3 player.
Big, Decidedly Mixed Sound
Considering its own bulk, the Cayman is not fitted with huge speakers. It contains three drivers in total — two 2.5-inch tweeters, and one 4-inch sub-woofer. But, my goodness do they pack a punch. If you want to blow your head off with outright volume, this speaker is capable of obliging. What's more, the bass provides the physical kick of a scaled-down gig. This effect is felt even more after moving from the Cayman's default "Balanced" EQ setting, to "Bass Boost". Mid tones benefit from this weighty richness, too.
High frequencies are considerably less convincing, however. Again, it is not for lack of volume, but the quality of soprano voices, wailing guitars and crashing cymbals leaves a lot to be desired. It does not ruin the listening experience, but neither does it in any way enhance it. As a result, genres such as dubstep and jazz fare well when played through the Cayman, but thrash and house are best avoided.
Verdict
It wouldn't be fair to say that living with the Cayman would be a love-hate relationship. It is more subtle than that. But the underlying principle stands — as you examine each attribute of this speaker, you find yourself constantly weaving between being pleased, and underwhelmed.
I like the way it picks up my Mac on Bluetooth without an hour of wrangling. I like the juicy bass when I'm listening to Jamiroquai. I like the array of controls on the remote and the built-in EQ settings. Even the design is visually inoffensive. On the flipside, the plastic finish feels cheap, and looks it in places. The tweeters offer a somewhat harsh sound, and the controls on the speaker are iffy.
If the Cayman were on sale for £100, the negatives would be easy to forgive. At £200, they are harder to overlook. In summary, the Cayman is far from the worst speaker you could buy in this price range, but neither is it the best.
ORDER FROM AMAZON U.K.