The Good: Simple to set up, smart looks, good transfer speed.
The Bad: Plasticy build quality, can get drowned out by other WiFi networks.
The Verdict: Solid, simple expandable storage.
---
Nowadays, I try to keep as much of my stuff as possible in the cloud. It's a strategy that allows me to sync and back up all my devices, and it reduces the amount of files I need to keep locally.
Unfortunately, you have to take your files offline sometimes, and the built-in storage of most phones and tablets doesn't stretch very far. SanDisk's Connect Wireless Flash Drive is designed to fix this problem by providing WiFi access to Mini SD card storage — but at £42, is it better than just using your network?
A Primer
Before looking more carefully at the SanDisk's various attributes, let me just explain how it works.
Inside a tiny flap on the side of the Connect Drive is a slot for a Micro SD memory card. My test version comes with a 16GB card inside, but it will also take larger cards. Once charged via the in-built USB port — a process which takes around two hours from empty — the Connect can hook up to any WiFi-enabled iOS or Android device, turning the Micro SD card into external storage. The USB port also allows you to plug the Connect in to a computer to put files onto the drive.
First Impressions
Okay, so that's the theory out of the way — now to try it in practice.
I'm somewhat hesitant to praise a USB dongle for its looks, but in terms of out-of-the-box first impressions, the Connect Drive is reasonably pleasing on the eye, in a corporate-smart kind of way. The majority of the body is covered in dreary black plastic, but the strip of plastic squares down the middle is a nice detail, and the WiFi connection button adds some silver. The USB port also has a slide-over cover, which prevents the Connect feeling uncomfortable in a tight jeans pocket.
Unfortunately, it must be said that all this plastic feels cheap — it's obvious that there's metal inside this flimsy coat — and I seriously doubt how robust the outer skin is. But if you treat it with care, it should stay looking smart.
Setting Up
Setting up the Connect is not quite as simple as Bluetooth pairing, but the only main difference in practical terms is that you need to download SanDisk's accompanying app. As you can only connect to one WiFi network at a time, you need to get the app before you can connect to the Drive.
Once completed, you simply need to select the Drive from your mobile device's WiFi menu, and then enter the app to access the Drive's contents (or visit the provided IP address in your browser).
Files are displayed in unremarkable, but navigable lists, and the app is able to preview certain file types, such as images. Meanwhile, other file types are played or displayed using any suitable apps on your phone or tablet.
In Use
On the whole, the Connect holds its signal well. If placed too near to a device on another WiFi network, it does get drowned out at times, but away from interference the range is good. The same applies to the speed of file transfer, which is not super fast, but is comparable to that of standard broadband. That means it is perfectly capable of streaming songs, and videos too, if the local airwaves are not too cluttered.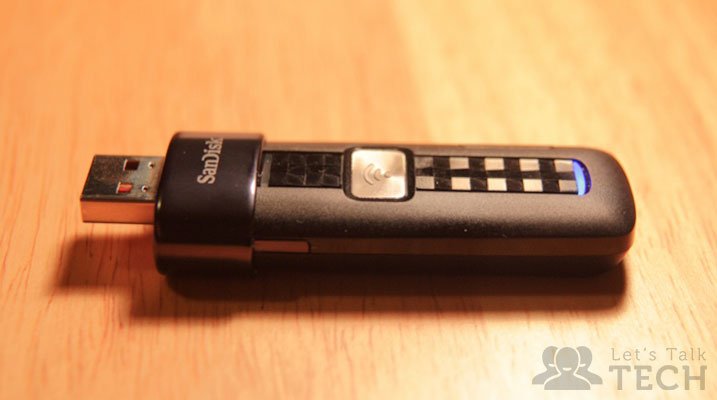 Verdict
I like what SanDisk have done with their Wireless Flash Drive. It is far from a complete solution to the mobile storage problem, given the temperamental nature of WiFi, but it looks good and is easy to set up. And although the build quality could be better, the Connect works very nicely as a simple way of taking extra files with you.
[box]
Buy the SanDisk Connect Wireless Flash Drive today!
[twocol_one]
UK Link: [button link="http://amzn.to/SEdzoS" size="medium" bg_color="#00c4ff" border="#00c4ff" window="yes"]Buy Now[/button]
[/twocol_one][twocol_one_last]
U.S. Link: [button link="http://amzn.to/SEdW2A" size="medium" bg_color="#00c4ff" border="#00c4ff" window="yes"]Buy Now[/button]
[/twocol_one_last][hr]
Did you like this review?
Be sure to follow us on Facebook, Twitter and Google+ so you don't miss the next ones![/box]