The MacBook Air, with its reduced weight and extended battery life, is ideal for a mobile worker such as myself. Most times I'll resort to using my backpack when commuting, but there are other times when all I need is to throw my Mac under my arm and head off to a client or remote location.
Given that the MacBook Air is one of the most exquisite devices that Apple has graced us with in these past few years, I thought it only fitting that it should travel in style. I was interested in seeing if the Snugg MacBook Air 13 Wallet case was up to the task.
Design
The Snugg MacBook Air 13 Wallet Case is fashioned in PU leather with a wide array of colours, ranging from hot pink to red, black or blue. Personally, I took the more conservative route and opted for Distressed Brown – which I feel compliments the Mac's look rather well.
Its soft nubuck lining avoids scathing my MacBook, while a semi-rigid backing provides some structural sturdiness and a small measure of protection for my device (in the off chance it should fall).
The case has a small pocket for my business cards in the front and a larger one for some sheets of paper or a legal pad in the back. There's also a very convenient cutout that allows me to connect a MagSafe Power Adapter while my Mac's in the case.
Build Quality
Snugg's wallet case has a soft luxurious feel and the craftsmanship is top notch, with superb stitching and finish. The only minor quibble I have with it, is that the magnets that help keep the flap shut are rather week and when my Mac is in the case, often enough it won't stay shut.
Fortunately however, I'm confident it won't fall out, because even after a couple of weeks of regular use the case still affords my Mac a very snug fit (pun intended).
One more thing I'd point out, is that although Snugg states on the website that the front pocket can be used to store small items such as headphones or USB sticks, the truth is that you'll manage a couple of business cards at most.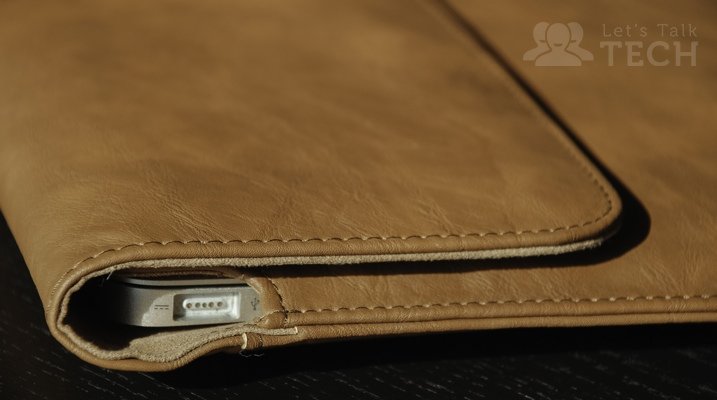 Verdict
If you're in the market for an elegant, professional looking wallet case, with great design and quality and that won't break the bank, then you can't go wrong with the Snugg MacBook Air 13″ Wallet Case.
I'd still be using mine – if my wife hadn't made off with it.
ORDER FROM AMAZON U.K.
ORDER FROM AMAZON U.S.