4K displays have been one of the hottest pieces of tech in 2014, however one of the main setbacks for most consumers is the lack of devices which feature or support it. Well, two of Asus' brand new Ultrabooks announced at Computex 2014 — the Zenbook NX500 and the ROG GX500 — actually feature 4K displays.
The Asus ROG GX500 is my personal favourite due to the immense power which comes from both the Intel Core i7 processor and Nvidia GTX 860M GPU. And to go along with the powerful internals, we also have the main feature: the 15.6″ 3840 x 2160 VisualMaster 4K display.
Where most gaming laptops are usually very thick and heavy, the GX500 comes in at 2.2kg with a thickness of just 19mm, resulting in it being the world's thinnest gaming notebook. With these kinds of specs you'll need to maintain the laptop cool, so Asus also include a dual-fan cooling system to manage heat generation.
Next up we have the Asus Zenbook NX500 which boasts an aluminium design — a lot like the one seen on MacBooks. In terms of the NX500's specs, it's simply the ROG GX500 without the ROG design and a Nvidia GTX850M GPU rather than a Nvidia GTX860M GPU.
Inside you can also have up to 16GB of RAM and up to 512GB Solid State Storage. Similar to the GX500 there's a 4K 3840 x 2160 display, except with this model there's also touch-screen capabilities for an optimised Windows 8 experience.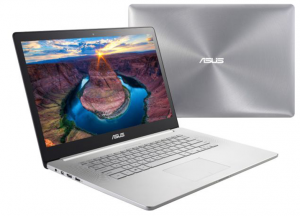 We don't currently have pricing on either of the notebooks, however the Asus ROG GX500 will be available in Q3 time this year. We're yet to hear an official release for the NX500.