The Good: Solid performance, build quality and battery life for a great price.
The Bad: Emotion UI sometimes feels restricting for more experienced users and phone feels quite bulky.
The Bottom Line: A budget smartphone with not so budget specs; if you want to enter the Android ecosystem this phone will work for you.
---
If you're looking to enter the Android smartphone market but are limited to a budget, there's a wide range of options to pick from. Honor's 4X is one of those, and at just £150, it's certainly worth a look at.
So for £150 you are probably questioning what is powering the device. Inside there's a 64-bit Octa-Core Kirin 620 processor, as well as 2GB of RAM. You can view the full specs list for the 4X here, but this has meant that I've easily been able to power through Honor's 'Emotion UI' (based on Android 4.4.2 KitKat), as well as some games such as Riptide GP2. As you'd expect of a phone at this price, more graphically intensive games aren't the 4X's strong point.
Something I was very keen to try out on the Honor 4X was the 5.5-inch screen, since most budget phones I've tried out have had large screens that usually look pretty bad. I'm glad to say that the 4X has changed my opinion to an extent. It isn't the sharpest display with a pixel per inch (PPI) count of just 267, but it does have great viewing angles, as well as it being very bright.
I've found all of Honor's products to look reasonably nice; they all feature a minimal style and try to experiment with different looking materials, and this also applies to the 4X. The only real issue I found is it's not the most ergonomic phone, due to the rounded edges which make it quite hard to get a good grip of the phone. It's also rather bulky. The woven cotton style plastic back feels slightly cheap too, but you can't expect premium finishes on a £150 device.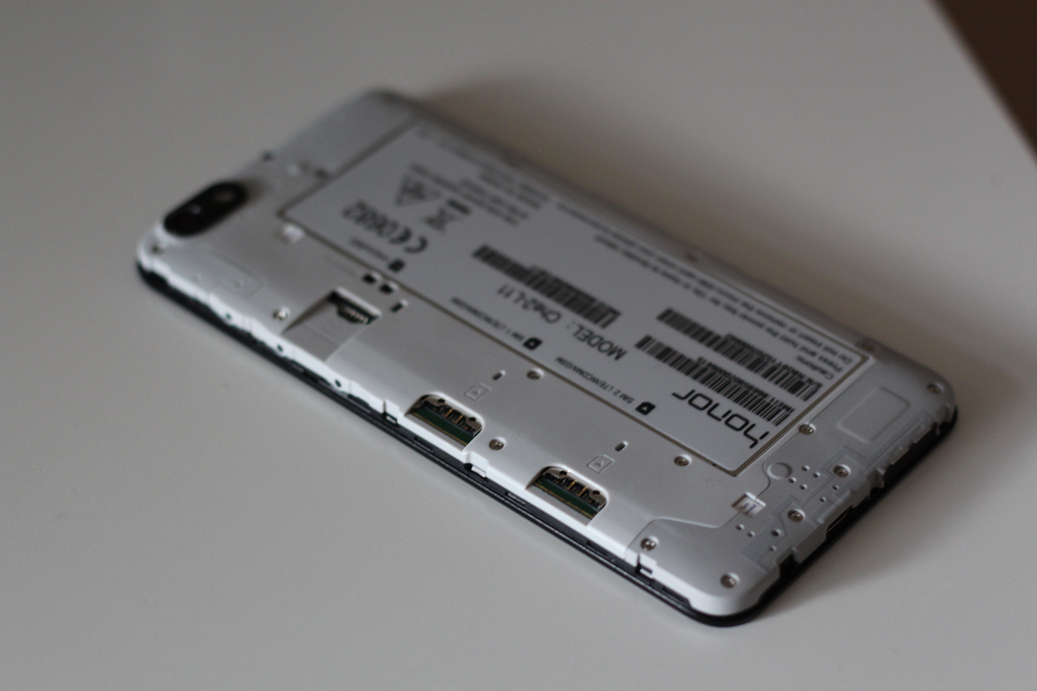 Pulling the back off using the small notch on the side of the phone reveals the 3000 mAh non-removable battery, which I'll speak more about shortly, as well as the dual micro-SIM. This is a great feature if you need to have both your personal and work life merged onto one phone, or have two SIMs on different networks.
Honor rates the battery of the 4X as being capable of lasting 48 hours. I was definitely able to easily make it past one day, something I wish my OnePlus One was able to do. It should be noted that if you do decide to use the dual-SIM feature, the battery will drain faster than just using a single SIM.
A common feature of Emotion UI is that Honor have tried to take the common features of the Android operating system and simplify them — exactly what they've done within the camera app. It retains all the common presets such as HDR, panorama and a few filters, however lets you quickly snap the picture without having to go through the hassle of having to go through all the settings.
Photo taken on the Honor 4X
---
The 13-megapixel rear shooter takes images which retain a suitable amount of detail, but the colours aren't that vivid. Low-light also proves to be an issue with the final images produced. Auto-focusing is the not fastest and wouldn't work the best for fast action shots but you should have no issues when taking pictures of landscapes for example. With the 5-megapixel front camera, you won't struggle to take some decent selfies either.
From the perspective of a more experienced Android user, I found that Emotion UI made things slightly harder for me to do — however that's because I'm used to navigating around stock Android. That said, for new or unfamiliar users, Honor's Emotion UI will make things a lot easier due to its easy and simplistic navigation / interface — similar to what you'll find on iPhone.
If you're looking to slowly ease yourself into the Android operating system or simply need an all round great budget smartphone, I would definitely have the Honor 4X high up on the list. It brings together decent power, great battery life and a nice design all for just under £150.
Buy Honor 4X – UK
Buy Honor 4X – US