Logitech revealed their first family of products today, a set of rugged iPad protective cases named the 'BLOK' series, under the new brand 'Logi'.
All three BLOK cases use a "unique extra-absorbent polymer" and square corners to absorb the force when dropped, hence the product name 'BLOK'. Logi says that your iPad will be able to survive a drop from up to 1.8 meters high onto surfaces as hard as concrete.
Starting off with the cheapest case available, the Logi BLOK Protective Shell features a similar design to most over cases, however incorporates the BLOK polymer technology and square corners. To protect the screen you'll get a screen protector included with the case. The Protective Shell will be available in black, red/violet and my personal favourite teal/blue, for both the iPad Air 2 and all models of the iPad Mini, at just £29.99.
Next up in the family, we have the Logi BLOK Protective Case which features a flip over cover to protect your screen when not in use, unlike the Protective Shell model. The cover can be used as stand within a range of 50-degrees to provide a convenient position for using your iPad. It comes in the exact same colours as the Protective Shell, however comes in at £49.99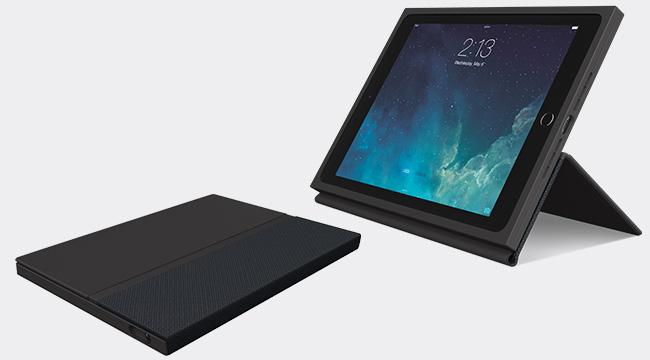 Lastly, we have the Logi BLOK Protective Keyboard case that incorporates a kick stand, once again with a range of 50-degrees, as well as a detachable Bluetooth keyboard which uses a magnet to attach to the case. The BLOK Keyboard case comes in black and teal/blue and costs £99.99. There's currently only a version for the iPad Air 2, however hopefully we'll see a model made for the iPad Mini soon.
Logi's BLOK cases will be available to purchase in August this year, however you are able to pre-order them right now using the links below.
Logi BLOK Protective Shell
Logi BLOK Protective Case
Logi BLOK Protective Keyboard Case